What Causes Acne And Pimples?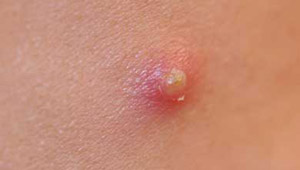 What causes acne and pimples? About 80%-90% of people have acne or have experienced acne in their life.  Also, the average age of an acne patient has jumped from 20.5 years in the 20th century to 26.5. Although the causes of acne is not completely understood, there are several common factors that can trigger acne.  Some of these factors include hormones, stress and diet.  For the majority of people, changes in hormones seem to be what causes acne and pimples. This explains why it is so common during puberty and, if you are female, before both your menstrual cycle and menopause. These hormonal changes causes your body to produce oil and cells in your skin at a much higher rate, making your pores much more likely to clog.  This clog creates an ideal breeding environment for acne causing bacteria, which begin to multiply much faster than normal causing a pimple to form. 

Unfortunately, changing your hormones to prevent acne is no easy task. Instead, it is much more practical to stop pimples through an effective acne treatment along with a healthy lifestyle and avoiding situations that could clog pores.  For this reason, if you are acne prone, it is important to keep your face clean in order to prevent your pores from getting clogged.  This includes preventing your face from touching your pillow when you sleep, keeping your sheets clean, washing after working up a sweat, and for women, using acne friendly makeup.  Although diet has not been scientifically proven to cause acne, enough people have sworn that there is a link between food and acne through personal experience that it is worth looking into. In addition, there are a few scientific theories that could explain how the two are linked.  One of these theories revolves around how diet directly affects hormone levels, and if you remember from earlier, hormones tend to be the main cause of acne. How do you keep your hormones in check through diet? There is nothing out of the ordinary of living a healthy lifestyle to accomplish this.  Simply eat fresh fruits, vegetables, meats, fish, and carbohydrates high in fiber such as oats and whole grains. Making these simple changes could help reduce your acne, and you have nothing to lose, so why not? Although a healthy diet can help reduce acne, most people find that it is not enough. The only proven way to effectively get rid of acne has been through the use of an acne treatment.  This is also the most practical way, since changing how your hormones work is no easy task, not even for the best doctor.  How do you get rid of acne pimples? If you suffer from acne, click here to learn about acne treatments along with a list of the most common treatments available or click here to learn how acne pimples form step by step.